Do you ever have an idea for a blog post but while you're prepping for it, the content changes as if it has a mind of it's own? I intended to share with you the finished quilt block that I wrote about
earlier this week
. I was so excited to share the finished block by posting a picture here. That was the initial reason for the post, just a quick update, and to ask if anyone had any insight about curved seams and slightly wavy fabric. (I think the inset circle is slightly too large because of mishaps with the millions of seams making it so the whole thing is doing a great impression of gentle gulf waves.)
Before I could take a picture though, I wanted to give the block one last press to see if it could be just a little more flat. That's when my iron decided to leak some ghastly brownish orange liquid on my quilt block! What do you do when your iron pees on your fabric!? What is wrong with my iron?! I decided to take a picture to show the damage. The lighting last night did not show the extent of the damage, so I knew I would take additional photos in the daylight before I could finish up my post.
Here is a close up of the damaged area. I'm not sure if you can see it, a slight rust stain around those precious points. Now the purpose of the post is a plea for help!
But wait there is more! I was fidgeting with the functions of my phone's camera trying to get a more clear shot of the destruction when this popped up:
Google Goggles is an app that I had heard about and downloaded a couple of days ago to play with. My understanding is that you could use it to take pictures of QR codes, UPC symbols and major logos and then search the internet based on the image. This is probably no big deal to the 'tech-ier' people of the world, but advances in technology are always surprising to me. Google Goggles scanned the image and was able to decipher what the main fabric was and then located it on sale on the internet! I should clarify, that while I did not intentionally use the app to search for the fabric, the app was running in the background of my phone from playing with it a couple of days ago. Now this post has more of a "I need to share about this 'What?!' strange/intriguing thing that just happened and ask if anyone else has been using the app?" kind of tone.
Have you ever had a blog post go in a completely different direction than what you intended? Do you use Google Goggles? What other apps do you use in your quilt making?
.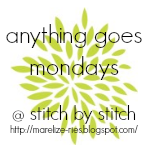 * My posts delivered to you *